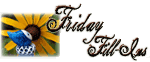 Go to
Friday Fill Ins
to Fill In your own!
1.
Cheer up, it
is not the end of the world.
2. Sitting here, listening to the sound of rain falling, I
remember living in a house with a tin roof and the sound of rain falling on it would almost put you to sleep every time
.
3.
A nice, gigantic, homemade brownie
tastes so good!
4. Sometimes, putting others first is
the right thing to do no matter how you feel about it deep inside
.
5.
The sunset from Mama's front porch
is breathtaking, really.
6. Well, maybe there is
a Santa Claus- (I've seen him in my backyard just recently)
.
7. And as for the weekend, tonight I'm looking forward to
shopping for some cloth to make my cousin a quilt for her upcoming wedding
, tomorrow my plans include
organizing some closets, planning some meals, and steam cleaning my poor living room carpet
and Sunday, I want to
try and contain myself from working on that quilt for my cousin during ALL of my free time
!