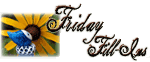 Go to
Friday Fill Ins
to "fill in" your own!
1. So are we going
to go or what
?
2.
Uncertainty
is what's up ahead.
3. I love to
spend money- the problem is, I don't have any so I can't spend it
.
4.
I'd love to have a way to bring in some extra money
of some sort.
5. I walk a
straight line full of valleys, mountains, and twisty curves (doesn't make since does it?)
.
6.
Contentment
is the true elixir of life!
7. And as for the weekend, tonight I'm looking forward to
not having to cook supper because we are going to a birthday party
, tomorrow my plans include
trying desperately (oh, so desperately) to get a facebook fan page up for my Etsy shop,
and Sunday, I want to
have all of the worksheets run off for the coming week's school work
!