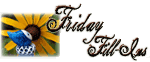 Got to
Friday Fill Ins
to "fill in" your own!
1. I have a history of
doing too much for everyone else and not myself
.
2.
How to play the piano
is something I wish I knew.
3. I'm eating (or recently ate)
brown rice and my special ground beef mixture with some soy sauce
.
4.
I don't like eating
on the road.
5. So that's it, that's
all you have to do? (The phrase you say when you try something new that you had thought was too hard in the first place and it turned out not being difficult).


6.
Five minutes of free time is
better than nothing!
7. And as for the weekend, tonight I'm looking forward to
the septic tank guy finally showing up
(
don't ask
), tomorrow my plans include
going to the Tram Art's festival
and Sunday, I want to
have school planned out for the new week
!