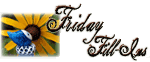 Go to Friday Fill Ins to "Fill in" your own!
1. That's a
heart attack
to be. (
when you eat hydrogenated oils
)
2.
Hey, Publisher's Clearing House, HGTV's Blog Cabin, and any other "big winner" contest owner
; I'm over here!
I guess it would help some if I actually entered some of these things in the first place :P
3. The possibilities include:
giving up completely, picking up the pieces and going on, or giving in and dying the gray hairs that have showed up on my poor head
.
4.
Beef Stew (minus the MSG please)
is one of my favorite cool day recipes.
(That and a nice pumpkin pie.)
5. How will you know
what to do if you have no idea what to do in the first place?
.
6.
Two things that can only mean that everyone will soon go "goofy" on me, is a full moon
and a stormy sky.
7. And as for the weekend, tonight I'm looking forward to
bedtime
, tomorrow my plans include
cleaning out some more from our storage container
(
anyone need an extremely heavy piano?
) and Sunday, I want to
have some problems solved before the work week begins
!