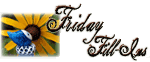 Go to
Friday Fill Ins
to fill in your own!
1.
I wanna' go
home.
2. My favorite thing for dinner lately has been
anything that I don't have to cook myself ! (seriously- fried chicken strips)
3.
All that our dogs, Cory and Tapanga can do, is
bark! bark! bark!
4. A nice long walk
soothes the soul
.
5.
I really hope that, soon, I'll hear
some good news.
6. When all is said and done,
the sun will rise, the rain will fall, and the stars will shine
.
7. And as for the weekend, tonight I'm looking forward to
a much quieter evening than last night
, tomorrow my plans include
working in the garden (with massive amounts of sunscreen this time)
and Sunday, I want to
enjoy those steaks that hubby is going to grill out (along with the homemade ice cream)
!