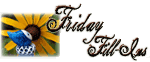 Go to
Friday Fill Ins
to "Fill In" your own!
1.
Sitting outside
in the quiet shade during a slight breeze,
is my favorite summertime
past time
.
2. My favorite John Hughes movie is
Flubber (I know, I know, he didn't produce it, he just wrote it) I'll be honest here, I had no idea who in the world John Hughes was until I had to look it up to answer this question!
3.
Minky fur fabric
is something I love to touch.
4. The full moon
makes me nervous because I know that people tend to get "goofy" during the full moon
.
5.
While answering these questions, I'm waiting on my husband to get home, it's really late, and I'm super sleepy
right now.
6. When daylight fades
my mind starts to focus on getting some sleep!
7. And as for the weekend, tonight I'm looking forward to
figuring out what to do with more figs than I have room (and canning jars) for
, tomorrow my plans include
going to my cousin's wedding
and Sunday, I want to
finish sewing some trick or treat bags that I have been working on for days and days
!